OH MY HOME – LOST AND FOUND

2015–2017

Public space installation and performance by the artists Saadia Hussain, Lalya Gaye & Ixome Ormaetxe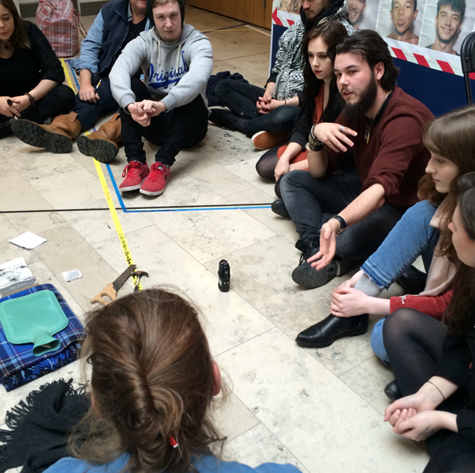 OH MY HOME – LOST AND FOUND
is a multi-disciplinary project seeking to explore, reflect on and re-define the meaning of the word 'home', beyond its traditionally place-based and physical definition, in the strict sense of a house and its four walls. We aim to dig into a deeper sense of belonging that encompasses identity, language, culture, family, and homeland, that transcends the individual, and that relates to the on-going fears, hopes, and changes happening in communities across Europe. Home as an experienced, contested and negotiated space.
OH MY HOME – LOST AND FOUND
has been installed and shown in 5 different cities in Europe: Haninge, Kosovo, Belfast, Blyth, San Sebastian and Gdansk since 2015.
The main objective and the methodology of our project has been that we seek to:
a) Reclaim the public space as a home for all, from a geographical, political and philosophical perspective.
b) Highlight the uses of the public space by those that "occupy" it because of a series of personal circumstances, traditional conventions or political negotiations.
c) Through this, question our own ways, uses, actions and positions in those spaces (either public or private) and how we fight to seek them, create them, claim them, keep them, share them and survive in them.
Our approach to this is has been through our interventions that created an alternate experience of this space: This intervention will has been a public space installation hosting a series of events and physical interactions. We invited local people communities and by-passers– to engage physically and experientially with the work.
Our projects relies on the following core concepts:
Project the phenomenological and personal experience of "home" onto a public space.
Involve local communities with a special / interesting / unusual relation to the notion of home and highlight it to the general public.
Create an experience, reflection and opportunity for dialogue about home as a contested yet shared, private yet universal space: whose home? what home? how do you make home? how does each of us interpret and live this notion, how to we negotiate it?
Explore the following questions:
– What is home and what isn't?
– What are the boundaries, transitions, processes and conflicts that
make home "home", from the scale of the house, the town, and the nation?
– Is home a place? A feeling? Certain people?
Focus on the interfaces and transitions between alien and home.
Home as a contested, central to many tensions and community-bonding across Europe.What makes this street feel as my home but not the next one? Why is this place my home and not yours? Who owns the 'home'?
Related to Corners goals and criterias.
See the creative process here